James' Story
A man is shaped by the life he has lived and the role models that offer inspiration to his life.  James' father provided the foundation to which has given him life's lessons and rules to live by, shaping the man into who he is today, and unknowingly, shaping his voice from life's experiences.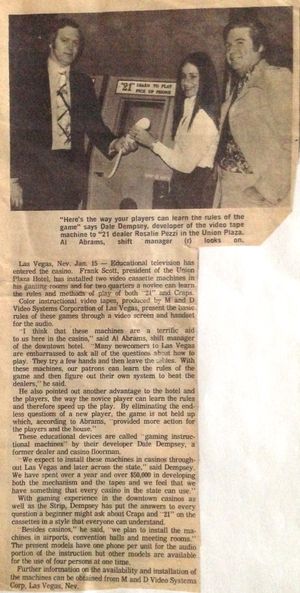 James Anthony was born in December 21st and lived in Queens (Astoria), New York until 1968. His family and Uncles' families then relocated to the desert of Las Vegas, Nevada. James was 8 and started music classes that year. The family entered the gaming industry and worked with individuals that showed them the ropes. They befriended many influential people within the old regime of Vegas and thus began to develop and change the way tourism was handled in Las Vegas.  
James' Grandfather Dempsey was the Treasurer of the Bricklayers Union between 1960 & 1970 and before leaving to Vegas, his father and uncles were Masons within the construction industry.  Grandfather Dempsey was also served as a WWII Veteran. 
James' uncle Dale Dempsey conceived, manufactured and placed 21 and Craps video training video machines in many of the casinos during the 70s called M&D Video Systems Corporation of Las Vegas (reference newspaper article).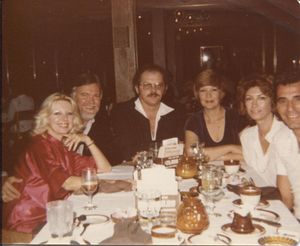 James' father Jack (pictured right with James' mother Mary, both in blue at table's end, at the Cal-Neva Lodge) and uncle Dale, started "Las Vegas Travel" from their investment company, "Dealers Investments", which took off in the 70s.  Las Vegas Travel changed the way tourism was handled in Las Vegas. One by one, the hotels and casinos came on board to  work with our family's model of bringing in gamblers to Nevada Casinos from around the USA, and thus the Gambling Junkets were born.
Some of the hotels included the Flamingo, Stardust, The Mirage, Hilton Hotel, the Sands Hotel, CalNeva Lodge in Lake Tahoe, and many others.  In fact, James was given a Cal-Neva Gold Card when he was 19 years old (1979) for anything with a signature.  They even set James up in Frank Sinatra's room when James would visit. (as long as Frank wasn't staying there at the time). The flight into the Lake Tahoe Airport was like riding over the top of a roller coaster when it crested the mountains.  
                                                                               Frank and James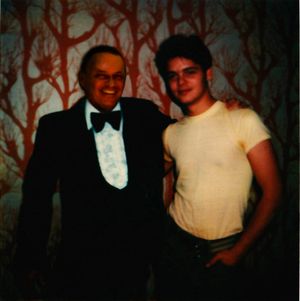 1973: James entered high school and was swooped up by the choir teacher, Mr. Clark Black, as a baritone/bass singer within the varsity & male choirs throughout his four years at Chaparral High School in Las Vegas.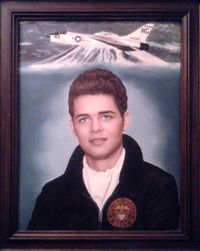 1978: James joined the US Navy where he proudly and honorably served our country for 4 1/2 years with A-7 Squadron VA-122 based in Naval Air Station (NAS) Lemoore, CA., VA-122 Det. Fallon, NV, throughout the U.S. on Aircraft Carrier flight ops for training and specialty training at Treasure Island in San Francisco Bay.  James was Honorably discharged in October of 1982 and then completed 2 years reserves. 

1982-1984:  James returned to Las Vegas where he auditioned and was accepted as the last drummer for the established band called Roadhouse to which they opened concerts and performed to support their albums.  Roadhouse principals retired in 1984 and in 2013, the band was inducted into the Las Vegas Rock Hall of Fame.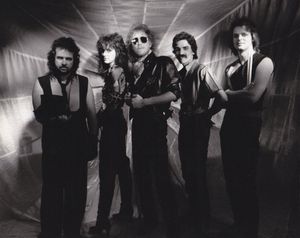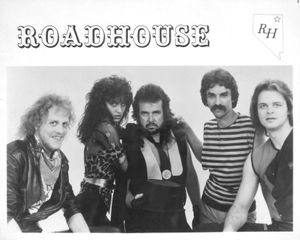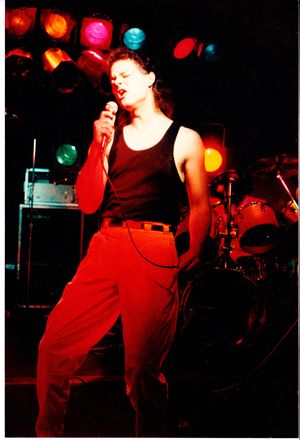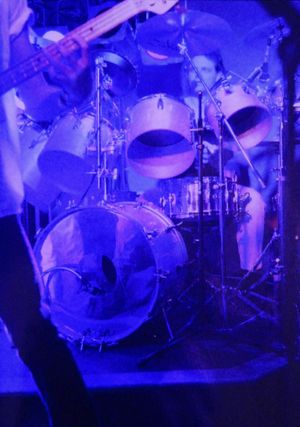 1984-1989: James relocated to Los Angeles for what was a tough music career, and although there were many ups and downs, James
began a successful music career as a session drummer/percussionist and backup singer.  James also continued to perform in various showrooms in Las Vegas throughout his career and his credits include working with various record labels including RCA Records, booking agencies including the national GMA Agency as a national touring artist and voice over talent. (pictured right on tour circa 1985)
1991: James finally hung up his sticks and eventually purchased a Florida based corporation where he and his wife would have children and raise a family.  August of 2004, James was in the wrong place a bolt of lightning hit a tree near James and presented him with partial paralysis on his left side. This partially affected James speech due to tongue weakness from the electrocution causing which thankfully was a temporary neurological disruption from the brain.  In 2005 after months of physical rehab and seeing his speech therapist, James regained 100% mobility and speech.


James sold his corporation that year and would travel as a business consultant/trainer throughout the United States only to feel the music itch coming back.

2011: James returned to the music business to research the industry for a few years so as to understand the industry's changes.  After a 22-year break, James realized that many music venues have developed some very bad trends that are not good for the industry nor the entertainers. 
2012:  James' upbringing in Vegas had unknowingly given him a different view and feel with the lyrics and music, so James returned to the studio to record the songs that offered a reflection of his life.  James' father, Jack, had asked James to record some of his favorite Sinatra torch song arrangements knowing that James had a unique baritone voice.  Father and son worked and shared thoughts and song choices and bonded like never before.
2015 and 2016: Sadly, James' father passed January 12th, 2015.  In honor of his father, James made the decision to stop performing to begin receiving professional vocal training.  He began working with Opera and Vocal Coaches over the next 3 years so as to strengthen his vocal ability, breath control and expand his range to gain proper vocal technique. This began with training from International Opera vocal technique coach and American Idol coach, Per Bristow's vocal training.  After nearly four years of rigorous and disciplined vocal exercises, James felt he was ready to give the audiences his all.  

2015: James receives a call from the Las Vegas Chamber of Commerce and offered a contract to perform for our U.S. Congress with his swing big band on Capitol Hill to provide Las Vegas style entertainment and sing the songs of Frank Sinatra.  He is immediately a smash hit on the Hill.

2016: James was again requested to perform on Capitol Hill for the U.S. Senate Members who heard James the year before, James accepted with great honor.  James performs a unique selection of song arrangements recorded by Frank Sinatra, including R&B and Jazz Blues songs from the Great American Songbook.  James' father would have been proud.
2017: James debuts and performs in Las Vegas at the Golden Nugget in the showroom, February on and was well received by the ticket holders and other vocalists alike. Wayne Newton states that James has such a unique voice and compares it to have similar traits and delivery as Sinatra.
2018: James Anthony is working with orchestrators to rearrange a very unique selection of music for a concert orchestra and a fresh new sound.  Songs and arrangements chosen are from Nelson Riddle, Axel Stordahl, Jimmy Van Heusen, Billy May, Don Costa, Stephen Sondheim, Jerome Kern, John Kander, Jacques Revaux/Paul Anka and others that Frank Sinatra made famous.  James Anthony performs these songs with the Carlos Lopez orchestra to give audiences the true taste of a Sinatra concert in the highest honor a vocalist can offer while working with high-level industry professional union and non-union musicians, librarians, conductors, designers, technical and stage management to bring the show to life.
James Anthony aims to please the audience and is one of the last real Torch Singers to perform the classic torch songs, beautiful ballads and Broadway songs with phrasing that will touch your emotions and your heart with his vibrant baritone voice.  
Folks, please join the mailing list and we will send an email blast when we are in your area.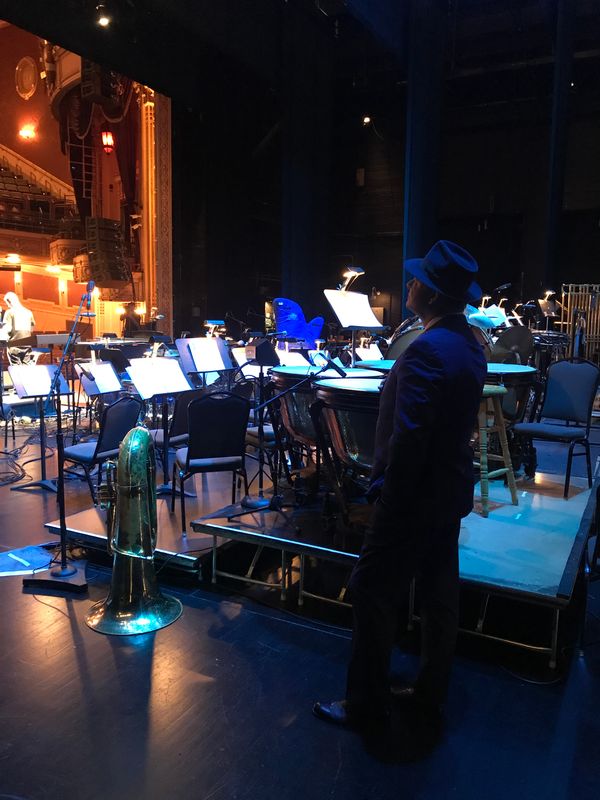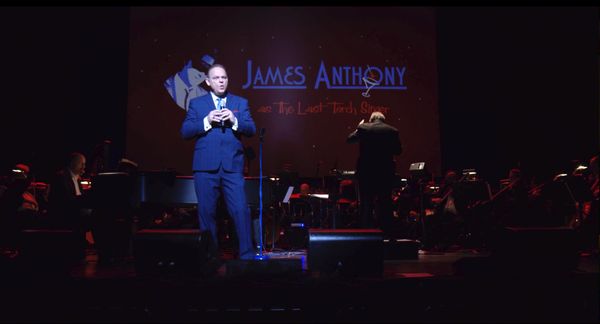 ---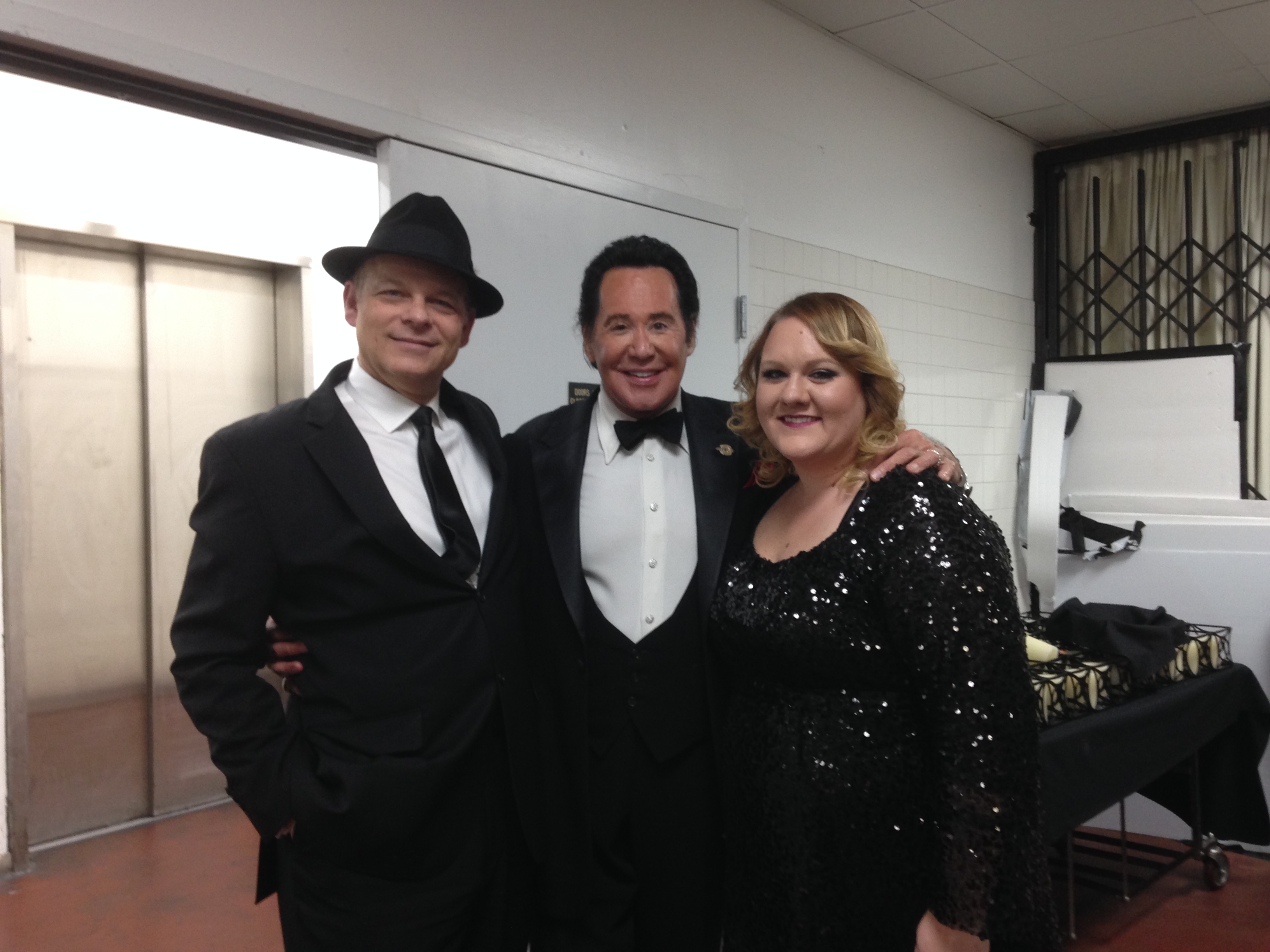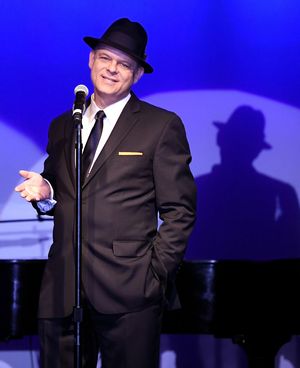 Las Vegas 2017 with
Wayne Newton and
Andrea Tyler